Specific Dietary Plans
10.0/10
Pros
Fresh Organic Produce
Chef Created Meals
Nutritionist Approved Menu Options
Options For Specific Diet Plans
Cons
Charge For Delivery
Does Not Deliver To AK, HI, MT, & parts of NM.
Sun Basket Reviews – Meal Delivery Service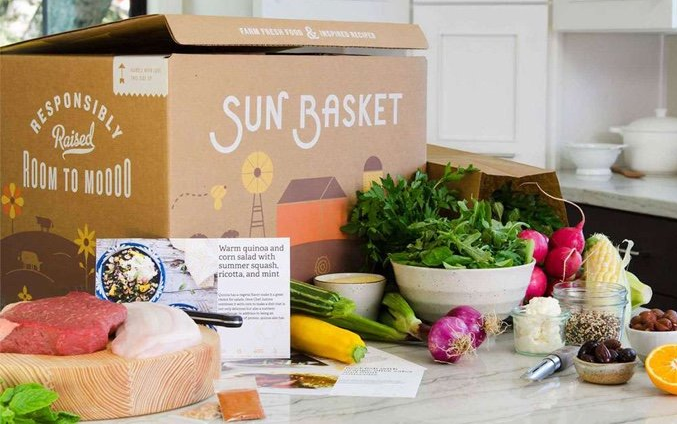 If you are one of those consumers that find it difficult to get a meal prep services plan that caters to your strict diet plan, then Sun Basket may be the best meal delivery service option for you. They deliver tasty whole ingredients right at your doorstep at your convenience. From sustainable sourced seafood to premium proteins to delicious homemade sauces, there is nothing that Sun Basket does not offer.
 Why Sun Basket Meals Are An Ideal Option
When you use the meal prep services of Sun Basket, you will get dinner delivered which include fresh organic ingredients and tasty recipes. When you create your account with them, you will be asked to enter some important details about your home delivery meals preferences. These healthy food delivery details will give them a brief idea of your diet preferences and the meal delivery plan that will be ideal for you. Sun Basket will prepare a meal plan to ensure that you get all your requirements, so that you will be happy and enjoy the convenience of having healthy meals delivered right at home.
 When you use the home delivery food services of Sun Basket, you don't have to worry about receiving food that you don't like, as you are given the option to choose the recipe that you like beforehand or select from their Family and Classic Menu options. What differentiates Sun Basket from other healthy meal kit providers is that they offer their customers both non-GMO and organic ingredients. This ensures that you get fresh and ready to eat food.
In fact, Sun Basket is so sure that you will enjoy your experience with them that you will get 100 percent money back guarantee if you are unhappy with their service.This money back is available for all complaints made within 7 days of delivery.  So, you can try one of the best food delivery service risk free.
What To Expect With Sun Basket Meal Delivery? 
They offer two options – the Family Menu and the Classic Menu. When you opt for the Classic Menu Option, you get access to 18 nutritionist-approved recipes each week. These recipes include the six family recipes. Some of the options available in the Classic Menu include:
Gluten Free
Vegetarian
Mediterranean
Diabetes Friendly
Quick and Easy
Pescatarian
Lean and Clean
Paleo
Chef's Choice
And Vegan recipes
 All the recipes in the Classic Menu are for up to 4 people depending on the option you select. 
When you opt for the Family Menu, you have the option of choosing from the 6 child-friendly recipes. Apart from the child-friendly recipes, you can also choose from a vegan, vegetarian or Sun Basket Paleo meal plan and all the recipes that are apart of Family menu. When it comes to selecting the best meal plan from Sun Basket, the Family Menu offers the best value for money. If at any point you are not satisfied with the options in the Family Menu, you can always switch to their Classic Menu. 
Sun Basket Organic Meal Service
Sun Basket recipes include organic produce over 99% of the time, if you eat organic then you also eat with the seasons, so in some cases they are not able to meet this organic promise, but this is a lot better than other meal prep delivery service, which does the opposite and use non organic produce most of the time and only use organic went local options are not available.
Sun Basket Lean and Clean Meal Plan
This meal delivery service plan is designed for consumers that want to manage their weight while eating delicious meals, the recipes are easy and you get good fats,clean ingredients and lean proteins, which will leave you feeling not just satisfied but also nourished.  Each meal is around500 calories, but majority of the calories are from good healthy fats and the recipes are reviewed by a dietitian. Other highlights for this home delivery meals are:
No Diary

No added sugar

No Soy

No Gluten

And they only use whole and non-processed ingredients
Some Important Pros and Cons With Sun Basket Food Delivery
When you place an order with Sun Basket, you get carefully selected ingredients from farmers that sell sustainable and organic products. Also, most recipes offed by Sun Basket take a maximum of 30 minutes to prepare.  Sun Basket also gives you the option of gifting meals to friends and loved ones. You can give a gift of Sun Basket meals for up to 4 people for four weeks.
To send a gift, just select the number of weeks you want to gift and the amount you have to pay for 3 meals is automatically calculated. The person who receives the gift will be sent a mail and will be given an option to select the meal they desire. When you use the services of Sun Basket, you will be required to pay shipment charges which are usually $5.99 per shipment. 
Sun Basket Meal Plans Pricing 
The price you pay for your meal at Sun Basket will depend on the plan you select. For instance, if you opt for Classic Menu, you will have to pay $11.99 per serving,which totals to about $72 a week.  For 3recipes in Family Menu, you will have to pay about $120 weekly. If you opt for4 recipes, you will have to pay about $160.
| Meal Plan | Cost Per Serving | Shipping |
| --- | --- | --- |
| Classic Plan | $11.99 | $6.99 |
| Family Plan | $10.99 | $6.99 |
Sun Basket Delivery And Shipping
When you opt to use the fresh food delivery services of Sun Basket, your meal plan will be delivered to your doorstep. For your first order, you don't have to pay any delivery charges. After your first order, you have to pay $5.99 per delivery,irrespective of the order size.
Sun Basket Meal Delivery Service Support 
The   website of Sun Basket has an in-depth FAQ page that has answers to most of your pre made meals questions. If you are unable to find answers to your question in this page, you can get in touch with their customer support team. Alternatively, you can also send them a mail or use their live chat service. 
The Bottom Line For Sun Basket Meal Prep
Even though they charge for delivery, Sun Basket is still one of the best meal kit delivery service in the market. They offer fun recipes and good quality organic ingredients and sustainably raised meets at your doorstep. As they continue to expand their healthy menu options, all you have to do is decide what you want to order next!