Specific Dietary Plans
6.0/10
Pros
Helps you with preparing delicious & different vegan meals.
Friendly & Responsive customer service.
Skipping, Pausing or Cancelling is easy
Cons
Can be pricey depending on your budget
.
.
.
.
.
This post contains affiliate links and I will be compensated if you make a purchase after clicking on my links.
In 2014 Purple Carrot was launched, joining the meal delivery service industry that delivered quick to make meal kits to consumers homes.  Unlike most healthy food delivery companies that cater to mainly omnivores and had very little vegetarian meal options, Purple Carrot provides a full vegan meal delivery service. 
No animal products are used in their recipes and can typically be prepared in around 30 minutes, which makes adding plant based meals to your dinner menu easy, whether you are 100% vegan or maybe you just want to add a few plant based meals to your weekly diet. 
Here's a detailed Purple Carrot review guide – What they have and how Purple Carrot's subscription works.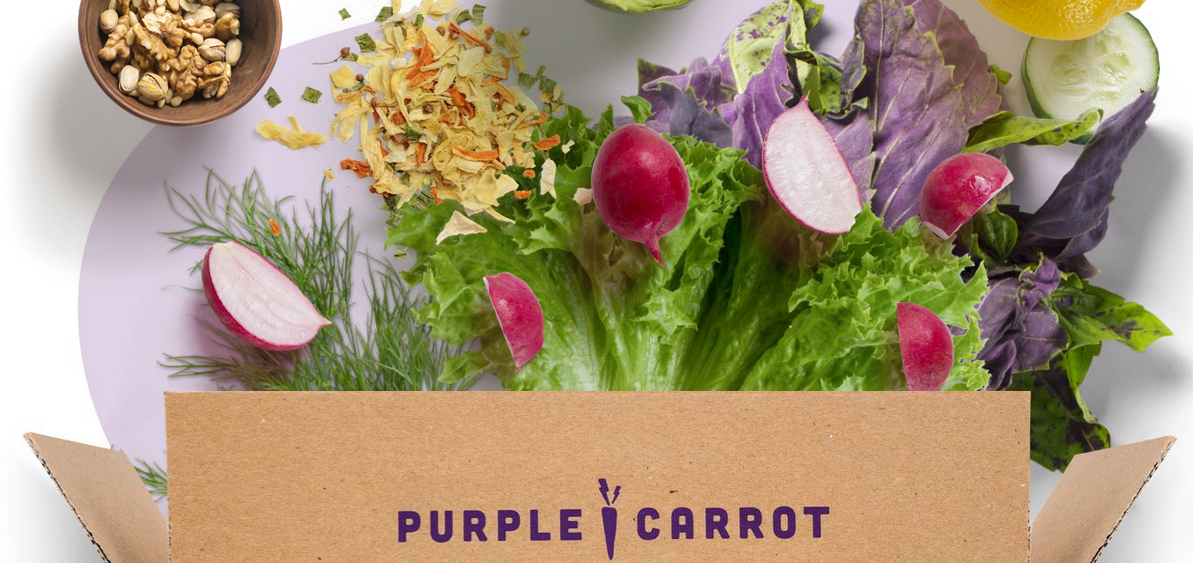 How Does Purple Carrot Meal Prep Delivery Works?
Purple Carrot is a meal prep delivery subscription service that pre-packages all the ingredients that you would need to prepare your weekly meals, to your home.  When you sign up, you will have 3 main meal options, high protein, Chef Choice and Gluten Free, which you can choose between a 2 serving meal plan that includes 3 meals a week or a 4 serving meal plan that is delivers 2 or 3 healthy meals per week. 
Purple Carrot does state that their meals are ideal for smaller households of meal preppers whose goal is to stock up their refrigerator with healthy meals each week, that can just be heated up in a short amount of time.
The price of the 2 serving meal plan is $11.99 per serving, which includes shipping costs and you have the option to select 8 different healthy meals per week.  The 4 serving meal plan is the best deal as it cost $9.99 per serving, the downside is that you don't get to choose which meals you will get, instead Purple Carrot chooses them for you.  The good thing is that you will be able to see what they have on the menu 4 weeks ahead of time and you do have the option to skip weeks if you don't like the dishes.
| Meals Per Night | Cost Per Serving | Cost Per Week |
| --- | --- | --- |
| 2 (3 Serving Plan) | $9.99 | $79.92 |
| 3 (3 Serving Plan) | $9.99 | $119,98 |
| 3 (2 Serving Plan) | $11.99 | $71.94 |
| 4 (2 Serving Plan) | $11.99 | $95.92 |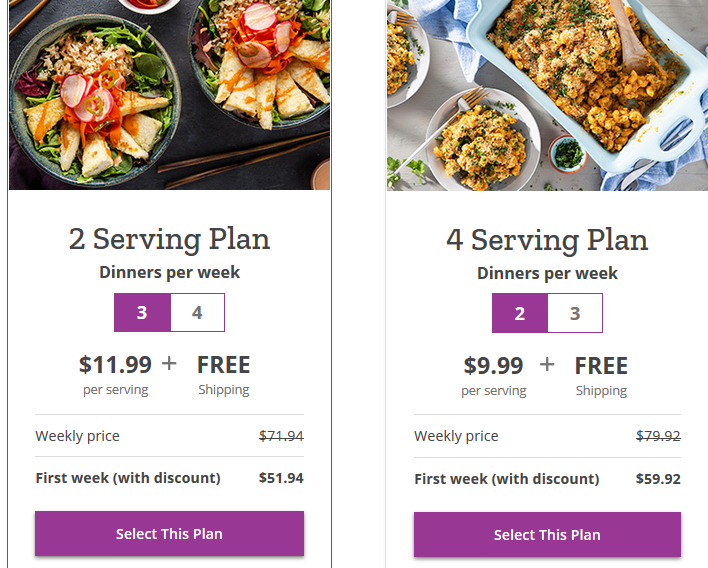 Most dinner delivered meal companies will allow their customers to pick a delivery day that is convenient to them, but Purple Carrot will choose your delivery day and it is dependent on your location and the proximity to one of their distribution centers. Which also means you can get it late in the evening or early in the morning.  Purple Carrot does state that their home delivery meal boxes can keep the food cold for 72 hours, which is a lot longer than other competing healthy food delivery companies, but that may also be because their meal kits do not have any meat that could spoil at warm temperatures.
With just a click on a button you can skip weeks or change your meal plan at any time.  In your profile page you do have the option to pause your meal delivery subscription, but you can only do so for up to 10 weeks, if you need it paused longer than that, you should just cancel your subscription.  Something I really liked about their website is that they prominently displayed the deadline for making changes or skipping meals each week, so that it's hard to forget.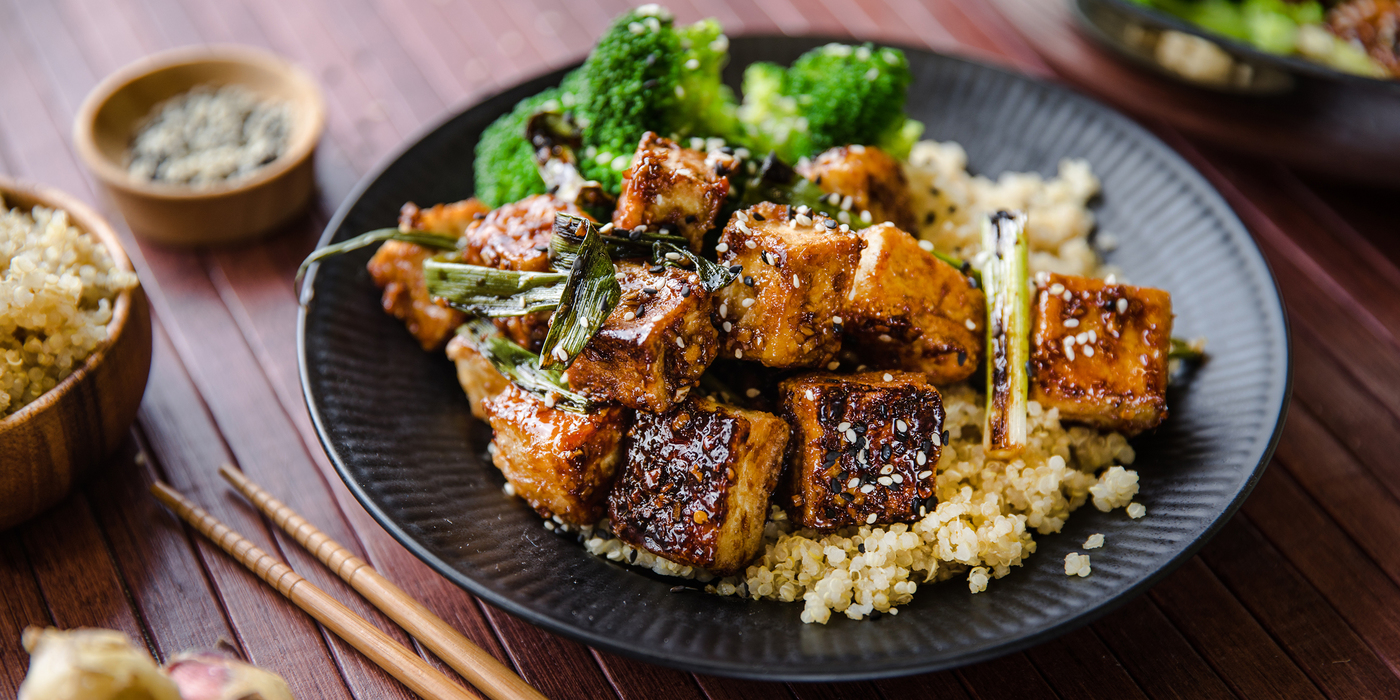 Choosing Your Purple Carrot Meals
While some healthy meals delivered companies will provide you with several dinner recipes to select from each week, you will only get 8 with Purple Carrot.  And if you subscribed to the 4 serving meal plan then you don't get any choices, instead you will get 2 meals pre-selected by the company.  Also, if you require gluten free meals, it's important to note that with the 4 serving meal plan, the recipes are not always gluten free, so it's important to review the pre-selected meals each week, just in case you may want to skip some weeks to avoid gluten.
Purple Carrots meals are inspired by many different cuisines of the world, such as barbecue sandwiches (Southern Favorites), Vietnamese bun cha and Mexican Chilaquiles.  Their oven based dishes can take about 40 minutes to prepare, but outside of that most meals generally take 30 minutes.  Their meals come in a bowl form and they are labelled high protein and gluten free when applicable.
Some of their most popular meals are:
Spanish Style Tofu with Avocado radish salad and paprika aioli
Buffalo tempeh quinoa bowls with roasted peppers and dill sour cream
Falafel with sumac radishes and tabbouleh
Purple Carrot Meal Delivery Plans Come With A Booklet
Purple Carrot will send you a recipe booklet instead of the recipe cards that other meal kit providers send. We do find the recipe cards easier to use than booklets, however you may like to see the recipe covered in 2 pages of a booklet.
You can find the link to all of Purple Carrot's recipes at the bottom of the home page of their website, from here you can search their entire database of meals you may have tried in the past or to find something new to try.  They have how to videos for prepping the ingredients.  They also have the "Rooted" blog which is updated regularly with lifestyle and health articles and cooking tips for a plant based diet.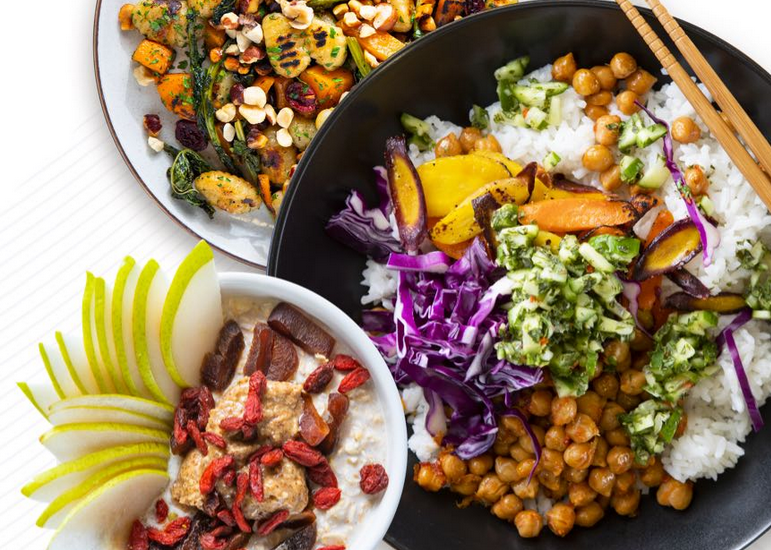 What To Expect With Purple Carrots Meal Prep Services Packaging?
Just like most healthy food delivery kit services, they do use a lot of plastic for packaging the ingredients, but it's something that's hard to avoid and the company does try to limit the environmental impact.
Your meals are packaged and sent in a recyclable cardboard box, inside the box they use fiber insulation and gel packs are used to keep the ingredients cold. Recycled cotton is used to make the insulation, which is bio-degradable if you decide to throw it out in the garbage, but you also can take it to a clothing recycling business to get it recycled.  As far as the plastic used for the ingredients, gel packs and to wrap the insulation, it is only recyclable in certain locations.
Some ingredients do come in plastic containers that have a screw top, which you can reuse or recycle them.  You can reference Purple Carrot's website page about recycling for more details about the types of plastics and also checking with your local recycling center to see what plastics and materials they accept.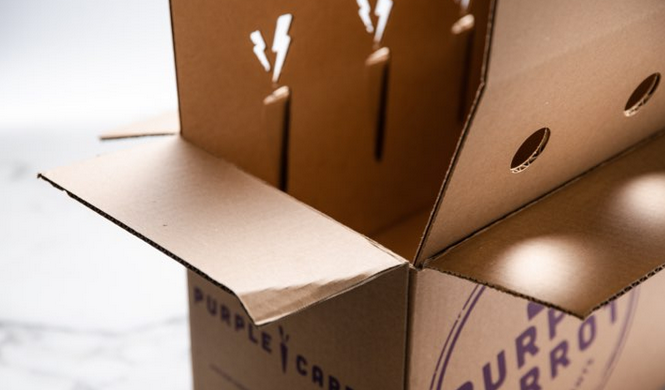 Dinner Delivered - A Straightforward Cooking Process
The recipes inside the booklet do not have a prep time, but for the most part expect it to be minimal.  Since the recipes are created with multiple types of vegetables, they do require more dicing and slicing then meat does, we recommend about 15 minutes for the prepping.
Purple Carrot's Fresh Food Delivery Quality & Flavor
They work with a number of vendors and farmers across the United States so that they are using the freshest ingredients.  Some ingredients are organic, like yogurt, vegan cheeses, tempeh, nut milks and beans, but they do state on their websites it is not always possible to provide their customers with Non-GMO and organic options because they are always trying to provide unique recipes and occasionally have sourcing constraints.  They do state on their website that they understand that it is important to their customers that they use organic and non-gmo ingredients, so they are trying to find ways to make this possible consistently.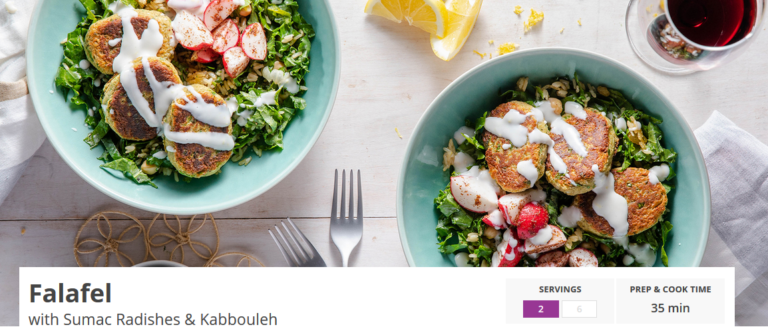 This post contains affiliate links and I will be compensated if you make a purchase after clicking on my links.
Who Is Purple Carrot Home Delivery Meals Right For?
It's great for consumers that prefer to eat a plant based diet, whether is only a few times per week or every day, but may not have the time to shop and plan recipes.
Who Is Purple Carrot Healthy Food Delivery Not Right For?
If you are on a limited budget it may not be a good fit.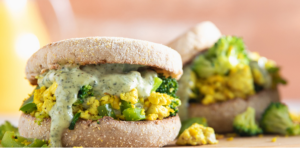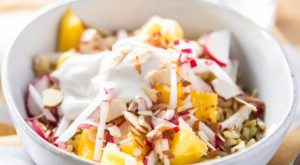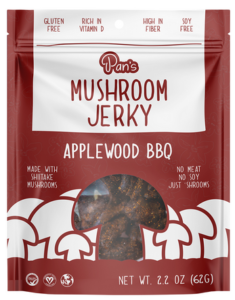 Purple Carrot Vegan Meal Delivery Add-Ons
While they do not have a wine subscription, they do have snacks, lunch and breakfast add-ons. With the 2 serving meal plan, you are allowed to add up to 3 extra meals per week, which can be breakfast, lunch or additional dinner options.  They typically offer 2 lunches and 2 breakfast options such as:
Super Green Breakfast Sandwich with tofu scramble and pesto mayo
Peanut Butter Overnight Oats with dried figs and cacao nibs
Mango Brown Rice Bowls with cilantro chutney
Black Bean Avocado Melts
The breakfast menu comes in 4 servings and the price starts at $4.49 per serving. The price of lunch is $8.99 per serving and comes as 2 serving meals. Both breakfast and lunch are designed to be ready in 5 minutes.
Purple Carrot Healthy Meals Delivered Customer Service
You can reach their customer service by chat, email or phone. Their business hours are based on Eastern Standard Time.  They also have an extensive Frequently Asked Questions section on their website that answers the most questions consumers would have.
Need To Cancel or Make Changes? No Problem!
With just a few clicks you can cancel your subscription from your account page, you will also find the option for pausing your subscription here.  On the menu page you can easily skip weeks.
While you only can pause your subscription for 10 weeks, they do send out a reminder email 10 days before your subscription will reactivate, which will allow you some time to make a decision to either start back your subscription or if you need more time you can cancel permanently.
Regardless of when your delivery day is, you need to make your cancellation or any other changes by Tuesday at 11:59pm EST of the week before you expect your next delivery.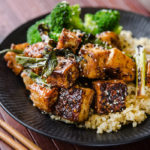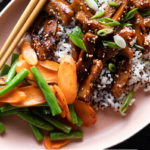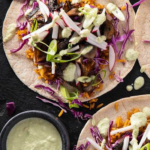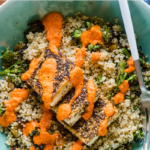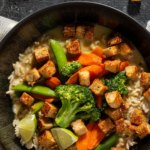 So What's The Verdict On Purple Carrot's Meal Delivery Plans?
If you want to eat only or more plant based meals then you can't go wrong with a Purple Carrot subscription, it will save you a ton of time that you would otherwise spend on shopping for ingredients and meal planning.
Some of the FAQs are also discussed below.
This post contains affiliate links and I will be compensated if you make a purchase after clicking on my links.