Butcher Box
Starting at $6 per meal
Sourcing Practices
10.0/10
Pros
Grass Fed & Grass Finished Beef
Free Shipping
Heritage Raised Pork
Organic Free Range Chicken
Enjoy nicer cuts of meat
Flexible Subcription Options
Customizable Boxes
Cons
Grass fed ground beef can be found cheaper at Costco
Not for people that are on a tight budget
Butcher Box Review - Is The Butcher Box Worth It?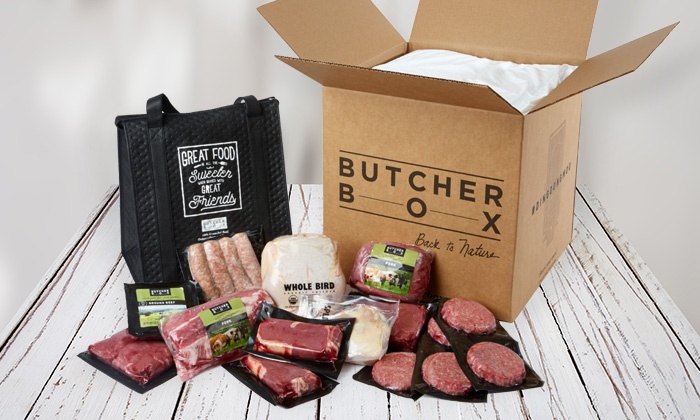 For a meat lover, nothing sounds better than the promise of juicy, succulent cuts like prime ribs, flavorful salmon, juicy steaks, chicken and burger patties oozing with taste. However, if you can lay your hands on some prime cuts of all these meats coming from animals raised on pastures and organic chicken, nothing can beat that. Still, it is quite difficult to come across such a variety of selection in supermarkets and you are left with online choices only. 
Here's a detailed Butcher Box review that explains how butcher box meat delivery subscription works and is it worth it or not.
This Butcher Box review by BestMealDeliveryService contains all information including meat delivery packages, subscription plans, pricing, quality procedures and and what are the benefits.
ButcherBox meat delivery service is quite a good option for people who are more focused on quality of meat, instead of quantity. The reason why ButcherBox meat delivery service got fame is your custom meat box. Yes, you can customize your own box with a wide assortment of organic cuts of fresh meat, chicken, pork and even fish like salmon.
ButcherBox meat delivery service is the best option that you can find online as it meets all your needs in every way possible. It caters to all kind of buyers including those who are looking for meat coming from humanely treated animals (researches show that it adds more taste and flavor to the meat) or frozen meat delivery service which gives you value for your money.
Where Does Butcher Box Get Their Meat?
Butcher Box neither owns a farm, nor is it an online grocery store with multiple interests. They are a meat distributers and work with farms operated by families and cooperatives. The target is to bring the best quality grass-fed beef, heritage breed pork and organic chicken to their subscribers every day. They focus on bringing the best quality meat to your doorstep which otherwise can only be found at farms which believe in treating their animals with lots of care and treat them humanely.
What Type of Meat ButcherBox Subscription offer?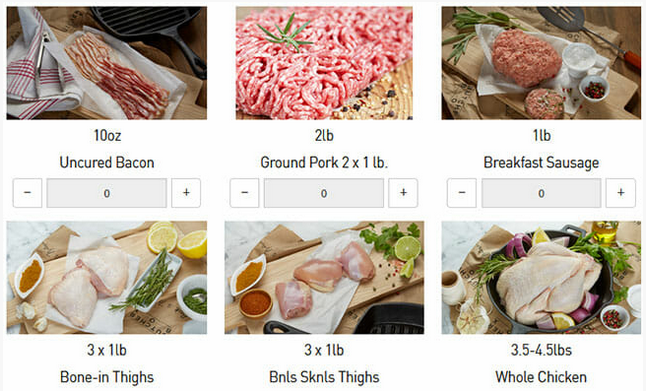 ButcherBox is a meat subscription service. They primarily offer three basic types of meat.
1. Beef
ButcherBox emphasizes on 100% grass-fed and grass-finished, pasture-raised beef from cows that are free to roam. It has been found through researches that grass-fed beef is much healthier and environmental friendly because the cows are raised on pastures as compared to the unhealthy feedlots. The beef obtained from such animals is high in antioxidants, vitamins and healthy fatty acids. 
2. Pork
The company also offers heritage breed pork from pigs that are provided with abundant time outdoors where they get plentiful exercise. The animals also get purely vegetarian diet which is free of forage and feed.
3. Chicken
ButcherBox provides its customers with the highest quality organic chicken free of antibiotics and added hormones. Their motto is to work with "the best possible meat processing facilities." They firmly believe in respecting and labor practices too.
How Expensive Is Butcher Box?
Another good thing about signing up with ButcherBox is the ability to customize and box just perfect accordingly choosing all beef, or a combo of beef and chicken, or beef and pork, a box of all meats. You can also choose one big and one small box.
Prices vary at ButcherBox and you can go for a custom box that allows you to make decisions consequently. Plans start at $129 per month. If you want go with the Custom Box which starts at just $149 per month, this allows you to make your choice. From 20 different cuts like ground beef, top sirloin steaks, chuck roast, pork tenderloin, boneless pork chops, chicken breasts and drumsticks, you can have your pick.
When the meat reaches you, it is completely frozen and vacuum-packed. You easily store up for the whole month and even then, the meat does lose its tenderness and juiciness. Butcher Box meat delivery also has various bonuses and you may get your hands on some kind of free promotion like free bacon or even win a free BBQ Box with baby back ribs, or 2 pounds of ground beef, and two NY strip steaks.
Butcher Subscription Price?
Subscription Type
Custom Box
Mixed Box
Beef & Pork
Beef & Chicken
All Beef
Classic Box
$149
(9 – 14 lbs.)
$129
8 – 11 lbs.
$129
8 – 11 lbs.
$129
8 – 11 lbs.
$129
8 – 11 lbs.
Big Box
$270
18 – 26 lbs.
$238
16 – 22 lbs.
$238
16 – 22 lbs.
$238
16 – 22 lbs.
$238
16 – 22 lbs.
How Does ButcherBox Subscription Work?
Butcher Box is a monthly subscription service. So, you have the option to choose the type of meat you like, how often you want the delivery (monthly or alternate months). Another benefit to ButcherBox subscription is the choice of adding any other choices you want to add to your regular box. An add-on would be an unusual item, like a package of uncured sugar-free bacon or a pound of boneless pork chops.
You can choose from these popular packages that are available:
Custom Box
All Beef
Beef & Pork
Beef & Chicken
Mixed Box (contains beef, chicken and pork – the most popular!)
The Custom Box is the one you have complete control over. You can add any choice of meat to it, be it ground beef, pork chops or whole chicken etc. You can make changes to this box when you sign or register for your subscription. In rest of the boxes, you can choose the type of meat but not the choice cuts.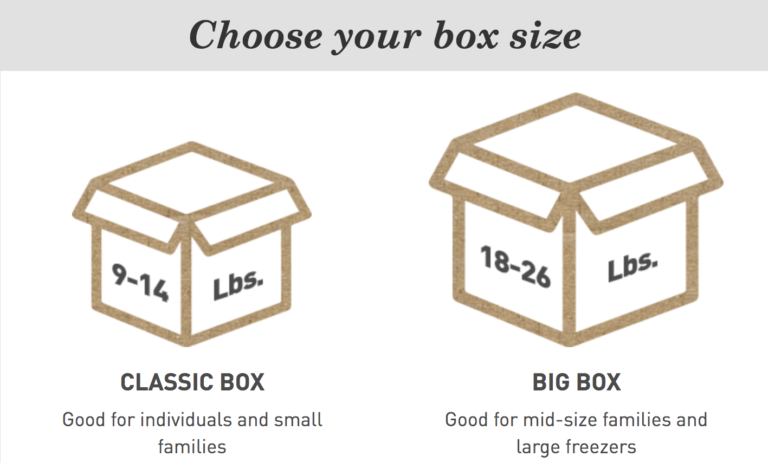 How Much Meat Do Your Get From Butcher Box? Meat Weight & Size
Each package comes in two different sizes:
Classic Box containing 9-14 lbs of meat for about 24 meals.
Big Box containing 18-26 lbs of meat for about 48 meals.
The Quality of Butcher Box Meat - Is Butcher Box Meat Organic, Sustainable & Humane?
Is Butcher box meat organic? If you are pondering over this question, then rest assured. Butcher Box primarily offers three types of meat and all boast of high quality due to the following reasons:
1. 100% Grass-fed and Grass-finished Beef
The reason why the ButcherBox beef is of such a high quality is because the cattle they use are raised gently and spend their entire life grazing on pastures. No harmful chemical, hormones or antibiotics ever go though the blood streams of these cattle. Most of the time their diet is natural but in cases of bad weather, they are fed high quality fodder or hay.
2. Organic and Free-Range Chicken.
The chicken provided by ButcherBox is free-range which allows them to move freely foraging for fodder in the field. This plentiful exercise makes the birds healthy and the meat obtained is leaner than the usual chicken you get at the supermarkets.
3. Heritage Breed Pork.
Like the rest of the meat, the pork sources of the company are especially chosen for their marbled texture and their signature rich color. ButcherBox does not engage in tail docking. Like the cattle, this animal source is also raised in natural environments or it is either created for them in barns just like their natural habitat.
Does ButcherBox have fish and other meat cuts?
Apart from ButcherBox top sirloin, NY strip, ground beef, rib-eyes, pork loin and pork chops, there are many other meat cuts that you can try including fish. Here are some of the must-try fish and cuts that should also make it to your new subscription:
1. Salmon
For the salmon lovers, the ButcherBox has a complete treat in their 2pound bags with a number of pre-cut fillets. Whether you want o go with a simple recipe or something more sophisticated, the wild salmon is tender, silky and flavorful and will leave you craving for more.
2. Lamb Roast
Another delicacy that you and your family will fall in love with is the lamb roast. More than enough for 4 people, the meat is tender and delicate and it is simply too mouthwatering and luscious. You can even use the leftovers in other family favorite recipes as well.
3. Turkey
Thanksgiving gets only better with the turkey by ButcherBox. Even the novice can try their hands on this bird and they will be quite successful because the meat itself is tender and has a burst of flavor because of which all the added flavors and seasonings are enhanced as well.
4. Ribs
If you have any doubts about the ribs and would like to stick to your regular ones, then don't. Give the ribs by ButcherBox a try and you will see the difference and you will end up eating more than you bargained for.
5. Ground Pork
Usually, it is quite difficult to find humanely raised beef and that also ground beef. With ButcherBox, you don't have to think about it anymore. You can get in the monthly boxes and your burgers will get a new life or you can also go for homemade sausages.
Option to Change Your Monthly Box
Butcher Box reviews have also revealed that now you also have the option to change your monthly subscription. If you have too much beef or pork stocked up in your freezer, instead of cancelling that month's subscription, you can simply change the box you want. So you can curate your subscription according to the availability of whatever meat you are looking for that particular month.
You Get an Email about Your Butcher Box before It's Processed.
Before your order is processed every month, you get an email from ButcherBox. This facility allows you to check up on the meat stored in your freezer and then match it with your plan to see what exactly you need in that particular month. Whether you have guests coming over or there are some imminent parties planned, you can plan accordingly which is friendly towards your budget too.
Change Packaging – Better than Before
ButcherBox have changed their packaging (though it wasn't really bad earlier either). Now, it meets the FDA standards and the meat arrives completely frozen in insulated boxes which help maintain the quality of meat. Every time a delivery is made, the meat is frozen rick solid.
ButcherBox Educates
When it comes to meat, there are lots of myths and ButcherBox has really played a keystroke by educating their consumer market by educating them. You come to know through this company's educational information like it is alright to refreeze the defrosted meat without cooking. If the food is partly frozen and the coldness around it is as much as if it were in the refrigerator with ice-crystal in it, it is safe to be cooked.
They provide all this information through an infographic sent to their consumers every month.
Here's some information about how the basic meats provided by ButcherBox are important for a healthy and balanced diet.
Chicken: vitamin B3, selenium, vitamin B6, phosphorus
Pork: vitamin B1, selenium, zinc, Vitamin B12
Beef: vitamin B12, vitamin B3, vitamin B6, selenium
Fish/Seafood: vitamin B12, vitamin D, selenium, vitamin B3
ButcherBox Customer Service

The change that the company has brought in their customer service department has really upped their game and the response time is also reduced. The concerns and complain go up the required changes. They have other distribution centers in their planning as well to reduce the response time further and this reduction also applies to transit time.
Their customer service is par excellence and being human, they are also subject to mistakes at times but prompt response and the will to rectify those means a lot.
Important Points to Remember about ButcherBox Services:
Butcher box delivery services are always free.
You can have a monthly Butcher Box subscription or you can go for a subscription for every alternate month.
If you have your last box stocked up, you can put the next subscription on hold.
Your ButcherBox subscription can be cancelled at any time.
ButcherBox customer service is excellent and they are always ready to help their customers and provide the best possible service.
Things You Learn From Butcher Box
Humanely Treated Cattle and other animals become a source of finer quality and premium meat.
All meat cuts are not equal. Each cut has its own properties and it affects its tastes.
It is important to have various types of meat groups in your diet.
The more exercise an animal and birds (cattle, chicken, turkey or pigs) have in their natural habitat, the leaner their meat is.
It is very important that the animals are fed a natural diet for a healthier meaty produce.
As a company, ButcherBox gives to respect everyone who works with them and for them.
The Truth about ButcherBox Reviews
Are you curious about the possibilities that Butcher Box can offer you with regard to getting your ordered meat delivered to your home? Below you can find commonly asked questions about ButcherBox.
How does grass fed beef tastes?
The foods that cattle eat have a major impact on the way they eventually taste and the composition of their meat. If you're looking for super-lean steaks, then grass-fed steaks might be right for you.
Why is grass fed beef so expensive?
The grass-fed meat is pricier because the farmers have to take care of animals up to a year longer than normal. Also, one of the major health benefit is that grass fed meet is also a good source of omega-3. Grass-fed meat provides 2 – 4 times extra omega-3 and omega-6 fats than grain-fed beef.
Is Butcherbox meat subscription expensive?
To be honest, Yes. Price are little higher but the quality is ever never compromised at butcher box. If you don't want to buy meat online from different store, but have it delivered to your home, then butcher box is a nice option.
Does ButcherBox deliver Prime meat?
USDA Prime Beef Grade is only assigned by the US government that describes the quality of meat or beef. The grades are assigned from Prime, Standard and commercial purposes depending on the combination of marbling and maturity. Butcher Box could be considered as a standard grade meat supplier with juicy taste and finest flavors.
How much discount butcher box offer?
Looking for Butcher box discounts or coupons? You can save upto 15% on your monthly subscription with special coupons, deals and offers. Take advantage of the discount and choose one of these tasty combinations. Check coupons here.
Can I order butcher box for an event?
If you don't want to subscribe for the monthly plan, you still have an option to order meat boxes for a specific day or event. 
How long does Butcher box takes to deliver?
The delivery is expect to be at your doorstep within 3-5 business days once your subscription is confirmed. You can also adjust/change the delivery dates by yourself.
Can I skip a month or two with Butcher box?
Yes, you can pause or cancel your subscription anytime you want. You can simply login and adjust your subscriptions.
How can I cancel my butcher box subscription?
Want to stop receiving your butcher box? For cancellation of your butcher box, simply email at support[at]butcherbox[dot]com and ask them to pause or cancel your subscription. Otherwise you can also do this by logging in to your account.
Is Butcherbox sustainable?
As said above, the sources of all of their meat is from sustainable farmers in the US. ButcherBox is sustainable and reliable but not a cost effective solution.
What Farms does Butcher box use?
The original source of butcher box meat is US, Australia, and Canada. They work with sustainable farmers in United States to get fresh grass-fed beef, heritage breed pork and organic chicken.
Do they offer organic meat?
This meat delivery provider offers premium quality service and deliver 100% organic meat. They have best quality, heritage Breed Pork, and just organic chicken.
What is the difference between Free-range and organic Meat?
Free-range and organic meat is really different. Animals that grow up under the free range or organic labels have a better life than the animals from the organic industry. Both are clearly more animal-friendly (where organic is slightly more animal-friendly than free-range), and that is especially the case at ButcherBox.
Ready? Signup for ButcherBox Coupons & Promo Codes