Fresh N' Lean
Starts at $9.33 Per Meal*
Specific Dietary Plans
9.0/10
Pros
Breakfast. Lunch & Dinner Menu
FREE Nationwide Delivery
Keto, Vegan & Paleo Options
Organic Ingredients
Premium Meats
Meals Can Be Ready In 3 Minutes
No Prepping or Cooking Required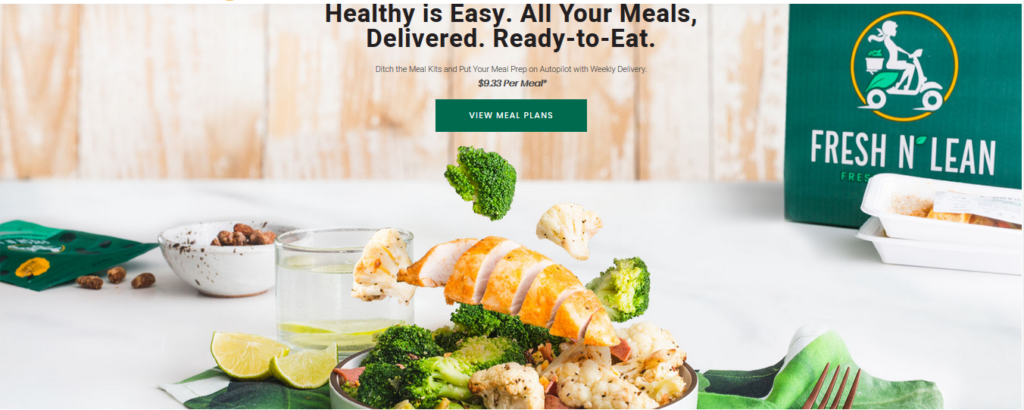 Fresh N' Lean is a premade meal delivery service that delivers healthy ready meals that are not just flavorful but also packed with nutrients.  Fresh n lean prepared meal delivery plans include dinner, lunch and breakfast.
Most meal prep delivery companies only offer dinner options, but Fresh n' lean knows that in order for consumers to eat healthy consistently, they need to have those healthy meal options available for not just dinner but breakfast and lunch as well.  They have even taken things a step further to make it incredibly easy for consumers to eat a healthy diet, and this is by them cooking the meals for you, all their mail order meals come fully cooked, all you need to do is heat them up on the stove or microwave and in only a few short minutes your meals will be ready to eat.
In this article we are going to do a detail analysis of Fresh n' Lean's ready made meal delivery service, to help you decide if their meal plans are right for you.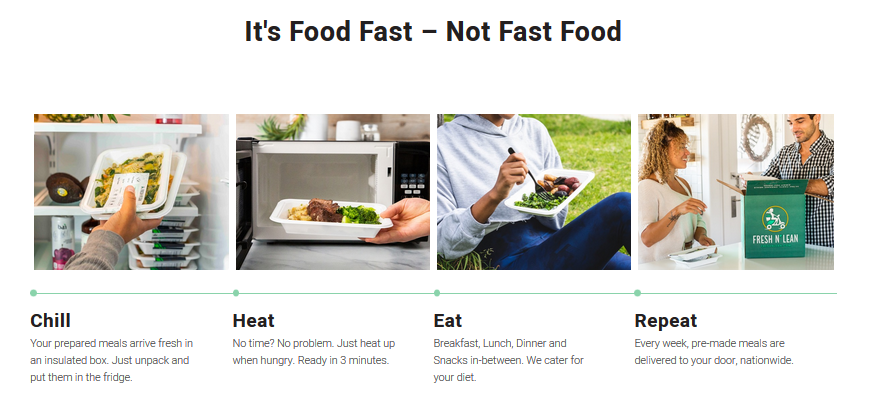 How To Sign Up And Choose Your Meal Prep Delivery Meals
With Fresh n' Lean you get to choose between 4 different meal plans. Each of these meal plans are designed for a different dietary need in mind, which makes it easy for consumers that have specific dietary requirements to find a meal plan that with not only fits their diet preferences but also their lifestyle.
Performance + Protein Plan
This meal plan, which was designed for athletes in mind, includes premium quality animal proteins in all the meals, such as bison, grass-fed beef, all-natural chicken and wild salmon.  This meal plan will work for anyone that follows a paleo, keto, whole30 or low carb diet.  The performance plan does not include legumes or grains, which means no lentils or beans are found in these meals.
Now if you don't eat animal protein, they also have 2 different vegan meal plans, the standard vegan plan and a low carb vegan plan, both which are 100% plant based.  One of the hardest things with the vegan diet is getting enough protein, but with Fresh n' lean's vegan meal service, you will get a ton of plant based proteins so that you can meet your daily nutritional goals.  The low calorie and low carb plant based meal options, for consumers that are watching their calorie intake and cutting carbs for weight loss purposes.
Once you have selected your home delivery meals, you then need to make a decision on the amount of meals you want to receive.  You can select just meals for dinner, of if you would prefer, you can order breakfast, lunch and dinner meals.  You then have the option to choose either a 5 or 7 day meal option, just in case you want to have Fresh n' Lean meals every day or just 5 days per week.
If you have food allergies, you will also have options that cater to them. Worried about going hungry in between meals?  Don't worry, they also have healthy snack options that you can add to your meal kit subscription order.  Once all your selections are made, go to checkout, make your payment and just sit back and wait for your healthy food delivery.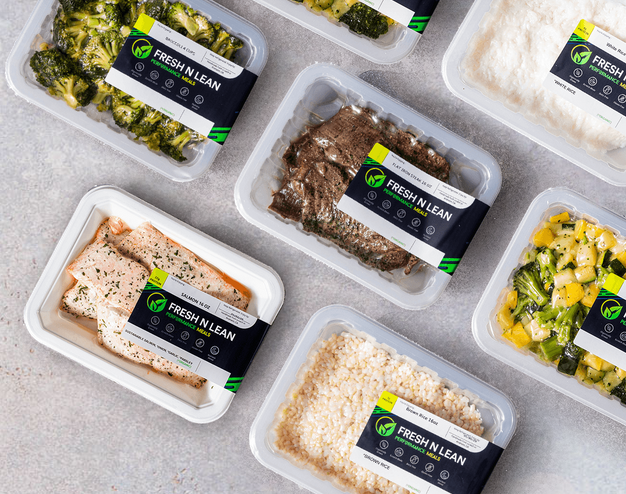 Different Types Of Healthy Meals Delivered Options
The menu for their meal delivery plans varies from each meal plan to the next.  But regardless of which option you choose, they have plenty of options to choose from for breakfast, lunch or dinner.  They have a rotating menu, which helps to eliminate boredom with the menu options.
Breakfast Options include:
Blueberry Banana Oatmeal

Kale Bell Pepper Frittata

Sunny Side Egg With Potato And Mushrooms
Entrée Options include:
Cilantro Lime Tofu with Veggies

Roasted Eggplant Caponata

Maple Glazed Sustainable Salmon with Brown Rice

Southwest Ground Grass Fed Beef Chili with Dual Beans
There are not many pre-made meal delivery subscription companies that offer vegan or plant based options, Fresh N' Lean is one of the few and they have quite a few options on the vegan menu such as:
Chocolate Crumble Loaf

Broccoli Quinoa with Dill

Sesame Brown Rice with Broccoli

Caramelized Onions and Brussel Sprouts

Balsamic Navy Beans with Cauliflower

Bell Peppers with Broccoli

Balsamic Cauliflower and Yellow Squash

Mango Coconut Chia

Chocolate Macadamia Oatmeal
Fresh N Lean has a Keto meal box, which is one of the of the few keto meal plans that have prepared meals which include keto snacks, dinner, lunch and breakfast, which can help make eating a clean keto diet a breeze.
Fresh N' Lean Snacks
Tomato Basil Chips

Cinnamon Maple Almonds

Lemon Chili Almonds

Garlic Rosemary Almonds

BBQ Almonds

Coconut Almond Buttercups

Cheddar Chips
Ala Carte Sides
Oatmeal

Muffins

Mushrooms

Green Bell Peppers

Cherry Tomatoes

Mixed Veggies

Brown Rice

Sweet Potatoes

Quinoa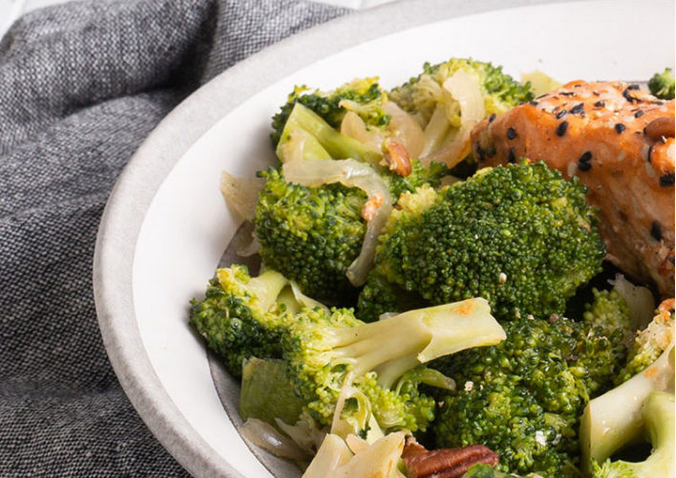 Home Food Delivery & Shipping
Fresh and Lean offers nationwide delivery, via FedEx and UPS.  Once your order is ready for shipping, you will receive a tracking number so you can track your delivery and see when your meals will arrive.  All deliveries are done during the week.
The delivery drivers will leave your subscription box at your door and no one needs to be there to receive it.  Once you receive your meals, you should immediately unpack them and refrigerator to avoid them from spoiling.
Their Fresh Food Delivery Packaging
They ship your meals inside an insulated cardboard box to maintain a safe temperature and they use ice packs to keep the meal trays frozen and at temperatures that are safe for meal consumption.  With this type of packaging, their customers don't have to worry about the meals going bad or spoiling before it arrives at their doorsteps or if they are not home when the delivery arrives, the box can stay outside for a few hours and maintain a safe temperature.
The individual packaged meals are vacuum-sealed to allow for the optimal freshness. The meal trays are made of BPA-free materials and are recyclable, along with the plastic seals which can also be recycled.  In addition to recycling the packaging, you can also drain the water from the ice packs and recycle the plastic bags.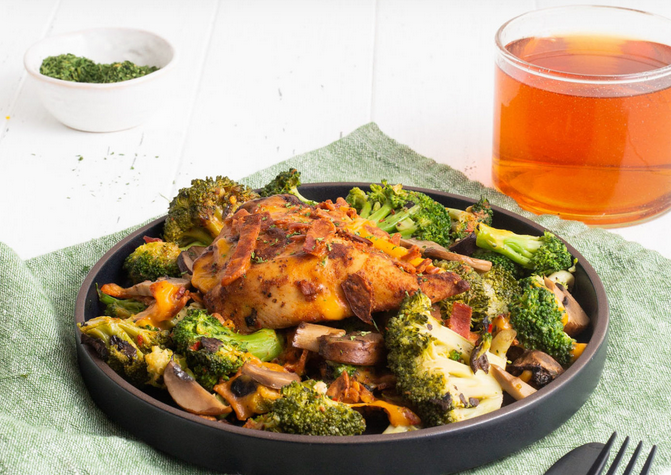 Freshness Of Pre Made Meals
This is a valid concern when ordering premade meals, as the quality of your food matters.  Frozen dinners in general have a bad reputation for not having much flavor and lack the taste of freshness.  Fresh N' Lean seemed to have figured out how to overcome these problems, as these meals do not taste like the typical ready-made frozen dinner taste, that is found with frozen dinners that are sold at your local grocery store.
Some of the reasons for this, is they use high quality ingredients such as organic and or local seasonal produce.  None of their meals have preservatives or any type of processed ingredients and they use a small amount of oil when necessary.  The vacuum sealed technology they use, locks in the freshness taste and this allows the freshness taste to last for 7-10 days in the refrigerator or you can freeze them, and they will last for 6-8 weeks.
Ease Of Cooking These Prepared Meals Delivered To Your Door
If you don't love cooking every night, you are in the right place, as Fresh N' Lean meals will make your weeknights easier.  Say goodbye to spending hours in the kitchen preparing your meals and then cooking them, with Fresh N' Lean you can have your dinner ready in just a few minutes.
Your meal preparation now includes taking off the label from the meal tray, puncturing some holes in the plastic cover to remove it, then you can either microwave the meals which only takes about 3 minutes, or you can heat them up on your stove top.  Heating the meals in the microwave is the quickest way to have them ready and you can use the meal tray to avoid having dirty dishes.  Heating the meals on your stove top will take longer and you have to use pots and dishes.
When I tried Fresh N' Lean, I went with the stove top option, because I like to add extra veggies and seasonings.  Like adding cayenne or crushed red peppers to give the meals a little kick, or if I was having some type of Italian meal, I would add extra garlic.
How Does Their Prepared Food Delivery Taste?
Fresh N' Lean meals are chef prepared, so that goes without saying that they are going to taste good, but it also means that only fresh ingredients will be used, which is another secret of great tasting meals.  Fresh N' Lean sources locally grown whole food ingredients that are also organic.  So, you can expect a ton of flavor.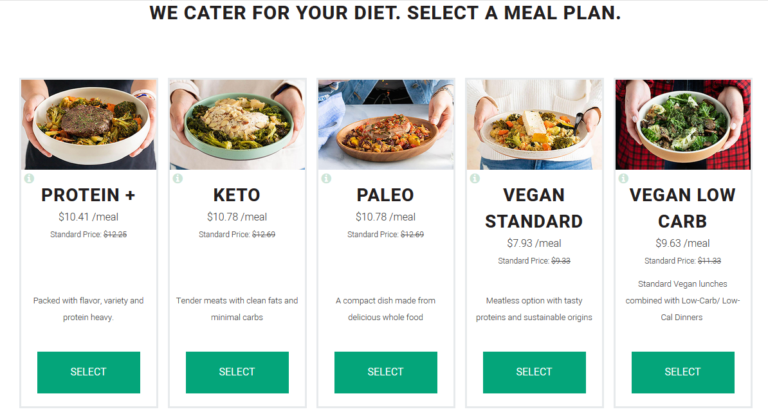 Fresh N' Lean Diet Food Delivery Pricing
The cost for the meal plan depends on which one of the options you choose, with the vegan plant based meal option being the least expensive since it doesn't include any animal protein.
Paleo meal plan starts at $12.69

Keto meal plans start at $12.69

Protein + meal plan starts at $12.25

Vegan Low Carb meal plan starts at $11.33

Vegan Standard meal plan starts at $9.33
Other factors that will increase the cost of your meals is the numbers of days each week that you want meals, they have a 5 day or 7 day option.
When you are trying to figure out the cost or savings for cooking your own meals, you will want to factor in the time it takes you to find a recipe, then the time to do grocery shopping and then finally the time to prep and cook those meals.  As you can see there is at least a few hours involved, that could be better spent on other things like spending more time with your family.
You can cancel or pause your subscription at any time inside your online account, as there are no long term contracts that you are locked into.  It's important that you allow enough time however to cancel, skip or pause your subscription, as they do have certain deadlines each month.  For example, meal cancellations or modifications, need to be completed by 12 pm Pacific time or 3 pm Eastern Standard Time on Mondays. 
Final Thoughts on Fresh N' Lean Prepared Food Delivery
Premade meals have a misconception that they taste like typical frozen dinners, but with Fresh N' Lean this is not the case, their meals are not only nutritious, but they also taste great and you can have them ready in only a few minutes.
Unlike other meal prep services, Fresh N' Lean offers not just dinner, but lunch and breakfast as well. Which makes healthy eating a lot easier, especially if your goal is to lose weight, you want to get as many meals as possible, already prepared for you.
Fresh N' Lean prepacked meals offers consumers a lot of options with their meal plans.  Most prepacked meals delivery services have limited options, but with Fresh N' Lean they have 4 different meal plans to cater to specific dietary requirements such as Keto, Low Carb, Paleo and Vegan.  The meals are also labelled with all the nutritional information, including macros, so it makes keeping track of your daily nutritional intake easy.
Fresh N' Lean will be a good fit for you if you don't like to cook or maybe you just don't have the time.  No longer is eating healthy time consuming, so no more excuses!
Are you a current Fresh N' Lean subscriber or have you tried their meals in the past?  We would love to hear your thoughts, please comment below.
Some of the FAQs are also discussed below.