Specific Dietary Plans
10.0/10
Pros
Easy meal planning
Great for those on specialty diets
No prep - Saves a lot of time
You can get tons of meals
Cons
Lack of flavor
Not a ton of meal options
Freshly is a New York-based meal prep company that specializes in delivering healthy meals directly to the homes of people across America. The company began in 2015 and has since expanded the number of states it delivers to, increased the versatility of meal offerings, and has formed a loyal customer base. Freshly has a meal prep services production facility in Arizona to fulfill its promise of absolutely fresh meals.
During its conception, Michael Wystrach and co-founder Carter Comstock wanted Freshly to be the go-to source for busy people to have access to delicious meals that were also healthy.
Freshly differs from other meal delivery services because their meals arrive fully cooked; all you do is heat and eat. Other dinner delivered services send you the ingredients to prepare the meal yourself. Since all the hard work of preparing and cooking is done for you, you have more control over what goes into your meals, unlike ordering takeout or eating at a restaurant.
Although the times have changes, Freshly remains loyal to its vision, maintaining a focus on eating nutritiously without stress. There's more to Freshly that makes the company stand out among its competitors:
All meals are peanut and gluten-free.
There is a wide selection of breakfast options.
None of their recipes uses processed sugars, and each meal is high in protein and low in carbs.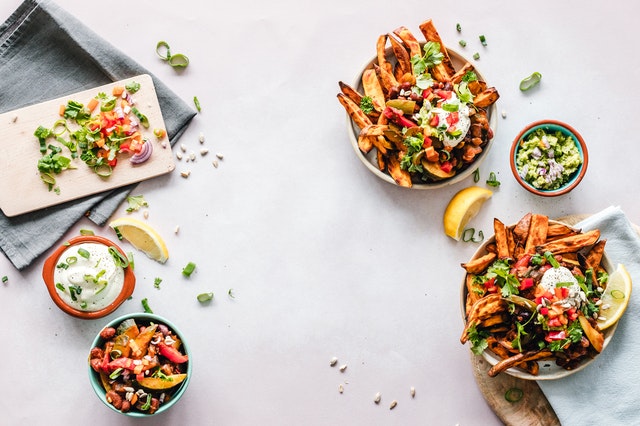 How Freshly Meal Delivery Services Works?
Fans of high-protein diets can rely on Freshly for healthy breakfast options and gourmet entrees. Each week, subscribers have dozens of meals to choose from. Although most of their meals emphasize meat as the primary protein source, there are plenty of meat-free options for vegans and vegetarians.
Placing your order from Freshly is easy. Simply choose the number of meals you want to receive each week: 4, 6, 9, or 12. Next, choose which meals you like the best. Freshly allows you to hand-pick the meals you want each week, unlike other home delivery meals services that force you to stick with a fixed meal plan.
Every time you visit their website, there are new breakfast, lunch, and dinner options, since the menu changes weekly. You have the option of trying a couple of new menu offerings, while coming back to some of your favorites. When you're stumped about choosing your next meals, you can use the recommendations from other customers and find out which meals have been Top Rated.
Although Freshly is not exclusively organic, they offer healthy ingredients that are all-natural. All meals are low-carb, gluten-free, and do not contain any processed sugars. With protein as the focal point of meals, they curb your hunger by keeping you full longer and turn your body into a fat-burning machine. You will feel light on your feet and full of energy throughout the day.

What Makes Freshly Unique?
Freshly is different because it places an emphasis on protein as the main component of meals. The diet philosophy is rooted in the Paleo diet, which emphasizes the important role of protein in keeping you energized, reducing hunger, and aiding in weight loss. This high-protein diet is ideal for people who struggle with their weight and feel sluggish throughout the day, especially after meals. Carbohydrates and processed sugars are a staple in the modern diet, which contributes to low energy and weight gain. Higher protein combined with fewer carbs is a recipe for a healthier body, increased fat burn, and more energy.
Freshly gives you all the information you need about what you are eating so you can make informed decisions. In addition to only using healthy, all-natural ingredients, you also know all the ingredients in each meal. You are also provided with detailed nutrition facts for each meal, such as the number of calories, protein, carbs, fat, fiber, and nutrients.
During our research for this Freshly review, we were impressed by how eco-friendly the company is. You can reduce your environmental footprint by ordering since all the packaging is biodegradable or recyclable. The meals are also designed to be eco-friendly by reducing food waste through perfect portion sizes.
If you enjoy ordering from Freshly, you can spread the word by joining their referral program. You receive $40 for each referral who joins Freshly and becomes a subscriber, and your friend can receive six dinners for $39. Each month, you can be rewarded for 10 successful referrals.
Flexibility in a healthy food delivery service is also important and Freshly offers maximum flexibility. As long as you make changes by the weekly deadline, you can skip a delivery, pause your deliveries, or even cancel altogether. You also receive email reminders before the deadline, so you will never forget to make any necessary changes. Whether you need to pause your delivery for a vacation or simply change your mind, you won't be stuck with unwanted healthy meals delivered shipments.
When I first opened the box, I was surprised at how compact everything was packaged. After I removed the eco-friendly, biodegradable insulation, which is made from recycled denim, there was a non-toxic freezer pack. The freezer pack can be discarded or reused since it is made from water-soluble gel. My meals were located under the freezer pack, which were contained in plastic containers with cardboard sleeves. As stated by the company, my meals were not frozen. Everything was fresh, as expected.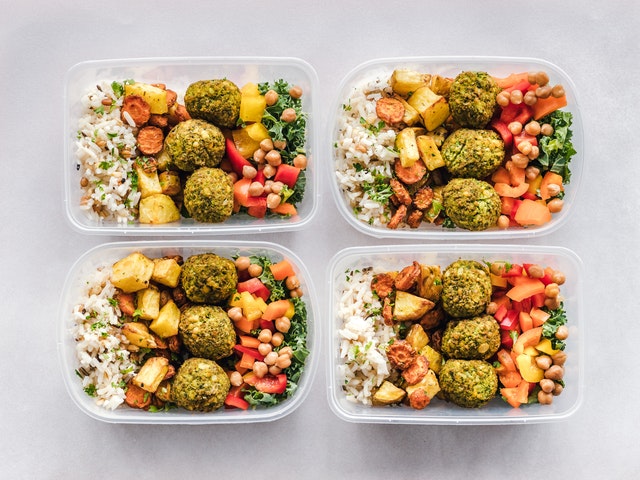 Freshly Meals And Recipes
As previously mentioned in this Freshly review, this home delivery food company offers delicious meals for breakfast, lunch, and dinner. By partnering with some of the best chefs across the nation, they are constantly creating new meals that meet their established criteria: high-protein, fresh, delicious, and healthy.
Although there are not meal delivery plans for all food preferences and dietary restrictions, the meals are created with some special diets in mind. These meals are usually Paleo-inspired, containing no processed sugars or gluten. Not only are these meals good for people who are on gluten-free or Paleo diets, they are perfect for diabetics or other people who need to restrict carbs and sugar because of other health issues. The low-carb, high-protein meals are ideal for people who need to maintain their current weight and fitness level, and those who are on the journey to improved health and weight loss.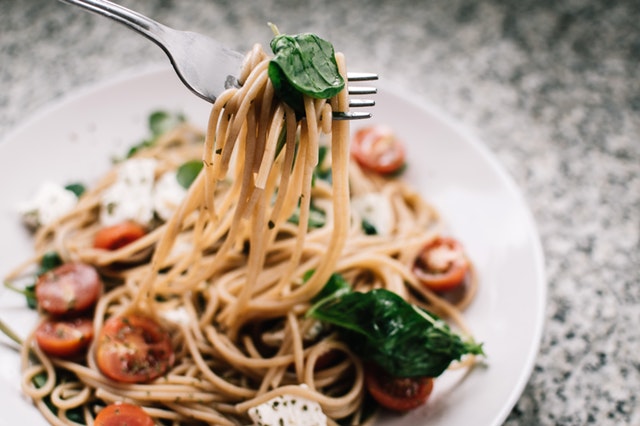 There are dozens of entrees and approximately a half-dozen breakfast items on the weekly menu. Breakfast options usually consist of unique omelets or frittatas, with some options that are based on fruits and grains. For entrees, various meats are highlighted, but mostly emphasize chicken and other poultry, or various types of seafood, such a fish and shrimp. Their meat is expertly cooked and is accompanied by nutritious sides, such as vegetables. In addition to meals that are packed with flavor, they are also well-balanced.
There is nothing bad to say about Freshly, but you must be mindful of some limitations. Some meal delivery services make it easier to leave out specific ingredients if you have an intolerance or allergy, but this is not an option with Freshly since all the meals are fully prepared. Since all the menu items are peanut and gluten-free, people with these concerns should have no problem. However, there may be issues if you have an intolerance to dairy or need vegan or vegetarian options.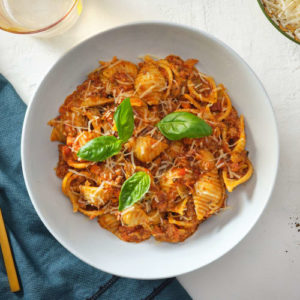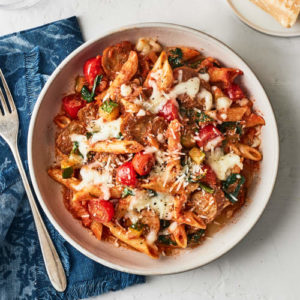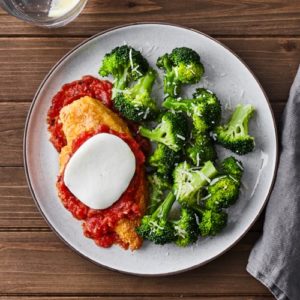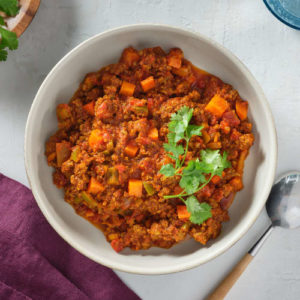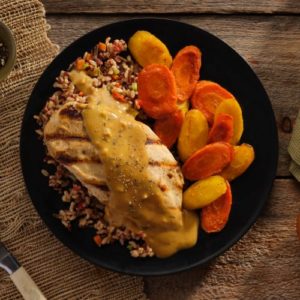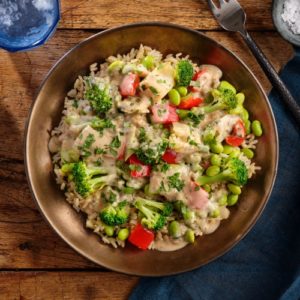 Even with a vast number of menu options, there is only one vegan option on the menu, the Southwest Veggie Bowl. People who are vegetarians will likely find most of the items on the menu contain meat or seafood. Freshly is working to expand their menu to offer more options for vegans and vegetarians. Currently, you can select your dietary preferences, which allows you to select the ingredients you need to avoid.
Ultimately, I would gladly use Freshly fresh food delivery again. The service is a dream come true if you're lazy or simply don't have the time to cook healthy meals. It's fast and easy and is a healthier alternative to ordering takeout and less expensive than eating out.
| Meals / Week | Price / Meal | Price / Week | Shipping Charges |
| --- | --- | --- | --- |
| 4 meals per week | $11.49 / meal | $45.96 / week | FREE Shipping |
| 6 meals per week | $9.49 / meal | $56.94 / week | FREE Shipping |
| 10 meals per week | $8.99 / meal | $89.99 / week | FREE Shipping |
| 12 meals per week | $8.49 / meal | $101.88 / week | FREE Shipping |
Freshly has pricing that is comparable to other meal prep companies. You can choose four meals per week for $45.96, or $11.49 per meal. The six meals per week plan is $56.94, or $9.49 per meal. For $89.99 per week, you can choose ten meals at $8.99 per meal. Lastly, for $101.88 per week, you can receive 12 meals, which is $8.49 per meal.
The more meals you order each week, the less expensive it becomes. You can save up to $3.50 per meal by opting for the largest pre-made meals plan. If you enjoy what Freshly offers, it is more economical to order the best prepared meal delivery service plan that includes 12 meals each week. Additionally, no matter the fresh meals delivered plan you choose, shipping is free, so you are only paying for your meals.
Prepared Meals Delivered To Your Door Delivery Areas
The main downside of Freshly is they have a limited delivery area. Currently, they only ship to 27 states: Alabama, Arizona, Arkansas, California, Colorado, Georgia, Idaho, Illinois, Indiana, Iowa, Kansas, Kentucky, Louisiana, Mississippi, Missouri, Nebraska, Nevada, New Mexico, South Carolina, South Dakota, Oklahoma, Oregon, Tennessee, Texas, Utah, Washington, and Wisconsin. You will need to use the zip code checker on their website to determine if they deliver to a specific region of any of the states listed above. Since Freshly has doubled their service areas in a short time, there's no doubt they will increase their delivery areas in the near future.
How To Subscribe To Freshly's Diet Meal Delivery?
Click the "Sign Up" button on the Freshly homepage to begin. Since Freshly only delivers to specific areas, you will need to submit your zip code and email address to determine if you are in their delivery area. If Freshly delivers to your area, you can begin selecting the number of meals you want each week. Next, you choose the delivery day and the meals you want. After you confirm your payment details and shipping information, your first box will be on its way shortly. You will also be set up to receive meals for the following weeks.
Managing Your Healthy Prepared Meals Delivered Subscription
You can log into your account to modify your subscription and your orders. Under your settings, you can plan your meals, change the delivery day, modify the number of meals you want to receive each week, and change other aspects of your diet food delivery subscription.
If you want to cancel, you can do this at any time, but you cannot cancel a box once it has been charged to your account. Each week, there will be a deadline to make any changes to your upcoming box, whether you want to change the meals, pause, or cancel. You will receive email reminders before the deadline and can make the choice to skip a specific week. This weekly email reminder lessens the chance you will forget and receive a box you didn't want.
The Bottom Line
Freshly's philosophy is that eating healthy means having meals that are high in protein and healthy fats, and low in carbohydrates and sugar. Due to this philosophy, there is little room left for some dietary restrictions, such as vegetarian or vegan diets. Freshly is constantly working to expand is vegetarian and vegan options and there are currently a few options that do not contain meat or seafood. The meals available are delicious, nutritious, and ready to eat within a few minutes, making it the most convenient option in the prepared food delivery industry. Professional chefs work with Freshly to give subscribers dozens of breakfast, lunch, and dinner options each week. Since shipping is free no matter the healthy meal delivery services plan you choose, so you save money by reducing the final price of the meals you choose. You should consider Freshly if you want convenient and healthy meals at an affordable price.
What is Freshly?
Freshly is a meal prep delivery service that requires a weekly subscription. Their meals are always delivered fresh, not frozen, and these meals are created by a team of nutritionists and professional chefs. The meals you receive are fully-cooked, unlike other home food delivery services, and only need to be reheated before eating. It takes less than three minutes to heat each meal.
How does Freshly work?
To start, subscribers choose their healthy pre-made meal plan, which is 4, 6, 10, or 12 meals per week. Once you submit your order, your meals are prepared and sent to your home in a chilled box. Your meals take less than three minutes to heat in the microwave. Find more information here.
Is Freshly worth the money?
The meals at Freshly are competitively priced and similar in costs to other pre-made meals delivered services. Additionally, you receive meals created by professional chefs. Many of their ingredients are organic, non-GMO, and gluten-free. Freshly is an excellent value for healthy, prepared meals delivered to your door.
Is Freshly healthy?
The meals from Freshly are gourmet meals designed with healthy ingredients. Although not all their ingredients are organic, they are all healthy and natural. Meals are high-protein with most of their meals using meat as the focal point, but there are some vegetarian options.
Where are Freshly's meals shipped from?
There are several facilities throughout their distribution network. Freshly ships their meals from two main facilities, one in Savage, MD, and the other in Phoenix, AZ. Which facility ships your order will depend on your location, so it arrives within the 48-hour time limit.
How do you cancel Freshly?
Once you log into your account, go to "Meal Planner," and select "Change Details." You can click on "Change" in the subscription settings. Click "Cancel Subscription" toward the bottom of the page. Follow the prompts given to finish the cancellation process
Can you freeze Freshly meals?
Yes. If you will not eat your Freshly meal by the "use by" date on the package, freeze the meal. Freshly recommends you do not thaw a frozen meal and simply reheat it from frozen. Both fresh and frozen meals should be reheated to 165F before eating.
Are Freshly meals organic?
Whenever possible, Freshly uses organic ingredients. Not all of the ingredients used in their meals are certified organic. However, all the ingredients are free of refined sugars, chemicals, additives, and artificial ingredients.
What is Freshly's delivery area?
Freshly has a 48-hour delivery period, and some zip codes fall outside this time frame. To find out if Freshly is available in your location, enter your zip code and email on their homepage.
Where is Freshly located?
Freshly is located in New York.
How long will Freshly's meals last?
Freshly prepares all their meals without chemical or artificial preservatives, which means they will not last as long as other foods. They must remain refrigerated and have a shelf-life of three to five days. Each meal is packaged with a "use by" date, which is located on the nutrition label. If you cannot eat the meal in the allotted time, you can freeze them for later.
To keep the options interesting, Freshly aims to create a new meal each week. Their current menu is rotated often, but the highest rated options are always available.
Additionally, ratings and comments from customers are used to make improvements to the recipes for the current meal options.
How many servings are in a Freshly meal?
Each freshly meal is single-serve, meaning they are packaged for only one person.
Currently, there are no options for family-sized or multiple servings.
Which service is better? Freshly or Blue Apron?
Although both services have the highest quality food, they have different business models. With Freshly, you receive meals delivered that are fully-cooked and are ready to serve after heating in the microwave. Customers of Blue Apron receive the ingredients and recipe to prepare their own meals at home.
Which service is better? Freshly or Hello Fresh?
Freshly delivers fully-cooked meals that you need to heat in the microwave before eating. Hello Fresh delivers meal kits, which includes a recipe and pre-portioned ingredients to prepare the meal.